Problemi cardiaci: spunta nuova teoria sull'utilità degli stent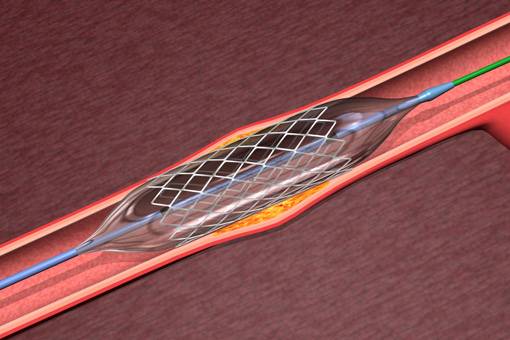 Gli specialisti sui problemi del cuore prendono con molta cautela i risultati di una nuova sperimentazione clinica la quale mette in discussione il valore dell'apertura delle arterie bloccate per alleviare il dolore toracico.
I pazienti affetti da dolore toracico che hanno ricevuto uno stent ossia un piccolo tubo di maglia metallica per riaprire un'arteria ostruita non hanno mostrato alcun miglioramento rispetto a quelli che hanno preso semplicemente una medicina per migliorare la loro condizione, hanno riferito i ricercatori britannici. "Questo ha sicuramente creato grandi dubbi", ha detto il dottor Samin Sharma, direttore della cardiologia interventistica al Mountain Sinai Health System di New York City.
Ma i cardiologi non possono dire se questa nuova scoperta, pubblicata il 2 novembre su The Lancet, avrà un impatto immediato sul processo decisionale clinico.
La verifica è si è concentrata su un gruppo di pazienti con sintomi relativamente lievi e non ha incluso però un lungo follow-up sufficiente per vedere se coloro che non hanno ricevuto gli stent hanno avuto problemi di cuore sempre più peggiori. "Come medico che ho curato molti pazienti con malattia coronarica, ho seri dubbi sul supernormalizzare i risultati del processo ai pazienti con sintomi più gravi e limitanti della loro malattia coronarica", ha dichiarato il dottor Ajay Kirtane, direttore dei Laboratori di cateterizzazione cardiaca a New York-Presbyteria / Università Columbia Irving Medical Center di New York City.
Gli stent sono sperimentati sulle persone che hanno sofferto di un attacco cardiaco causato da un'arteria bloccata e che hanno migliorato senza dubbio la salute di queste persone con attacchi imprevisti e dolorosi al torace, hanno detto Sharma e il dottor Sidney Smith, portavoce e professore dell'American Heart Association dell'Università della North Carolina School of Medicine. Ma c'è stato un serio dibattito sui vantaggi dello stenting nelle persone con angina stabile – dolore toracico prevedibile, a breve durata, che si verifica quando il cuore viene sottoposto a forte stress. L'angina è tipicamente causata dall'accumulo di placche grasse nelle arterie. L'ultimo processo ha affrontato questa domanda utilizzando metodi relativamente unici nella medicina moderna, dicono i cardiologi.
I ricercatori hanno eseguito in modo casuale una procedura di stenting "sham" sulla metà di 200 pazienti con angina stabile, per vedere se hanno provato lo stesso miglioramento rispetto a quelli che hanno ottenuto un'arteria parzialmente bloccata riaperta con uno stent. Tutti i pazienti hanno ricevuto un farmaco aggressivo per il loro dolore al torace.
Ricordiamo che vi sono altri problemi potenziali correlati all'uso degli stent vascolari: il più comune è la trombosi dello stesso, cosa che determina un'occlusione acuta del vaso e ischemia (se vaso arterioso) del tessuto irrorato, ma in genere sono eventi rari e che si presentano nell'immediato o entro le 24 ore successive all'impianto. Infatti il device viene poi riendotelizzato, cioè ricoperto da neointima e l'utilizzo degli antiaggreganti aiuta tale processo. Anche la proliferazione intimale, se eccessiva, può determinare una complicanza, definita però restenosi.